We all know that STE(A)M subjects are important and that our world is full of opportunities in the Tech Industry. Although we keep hearing that there are nearly 10,000 open engineering positions in Ireland as well as programmes, talks and money being thrown at the problem, still the numbers don't change. 
Most of the programmes in Ireland that help young people understand the advantages of a career in technology are aimed at the post Junior Certificate and specifically at the transition year stream.  Competitions such as CanSat, a European space-themed competition for second level students developed by the European Space Agency (ESA), BT Young Scientists and other programmes through the Midas Group and others help to make STE(A)M front and centre for older teenagers.
But what about the younger kids?  
According to Women in STEM (2018) that although young girls in Europe become interested in STEM subjects at the age of 11, they lose interest quickly by the time they are 15 years old.  
It's interesting to note that the same pattern can be seen in girls with humanities subjects but their interest soon returns whereas their interest in STEM subjects does not recover.
Even the incredible British mathematician Hannah Fry admitted to not liking maths at school but with her Irish mother's drive and a school teacher who made maths creative and fun, she thrived. Hannah is now a Professor in the Mathematics of Cities at the UCL Centre for Advanced Spatial Analysis as well as an author, radio and television presenter. But what if Hannah never met that teacher?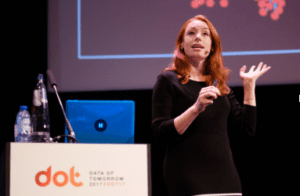 What can we do about it?
Gerard Hughes of Sentinus – STEM in action, who is dedicating his career to getting children to stay in STE(A)M says, 'Children are influenced by Parents, Teachers & Peers. We keep forgetting the peers'.
Inspired by Gerard's insight Mint Tek collaborated with  Nenagh College in Tipperary to try a different approach to encouraging interest in STE(A)M in their school. The idea was for a group of 'peers' to help a younger group to appreciate STE(A)M on their own with very little influence from teachers or parents using a kit from littleBits.  

Nenagh College in Tipperary has a successful history with the Irish VEX Robotics Competitions and in the 2022/23 season, using a combination of teamwork, leadership and problem-solving skills the team designed, built and wrote code for a competition ready robot. They came 2nd in the regionals held in Dell, Limerick.  In this contest they worked strategically with the team that finished 1st, and qualified for the national competition.
The Vex Team consists of 1st year students, Oskar Koniuszek, Alan Nieezwiedz, Tomas McKenzie Cleary, Kamil Kuczmanski, 5th year students Sarah Bourke, Michael T. Collins, Charlie Willians, Seamus McKenzie Cleary and from 6th year Tadhg Creagh under the guidance of the the school's coordinator, Sheelagh O'Malley.
What are littleBits?
I have long been a fan of littleBits which was founded by Ayadh Bdeir in 2011.  littleBits are colourful modular electronic 'bits' that snap together easily using small magnets to build fully-fledged and functioning inventions. The kits help make learning about circuits and electronics fun and imaginative.
The idea was that the team would get to know the littleBits kit and then teach the 1st & 2nd year students how to build electronics and to code the bits.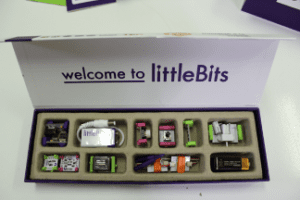 The Vex Team took the challenge and created a training session including a presentation describing the various bits and their functions.
Then they set up 5 supervised stations and divided the 1st & 2nd years into groups of 5 or less.
Station 1: The group was tasked with making a Robot – Self Driving Vehicle using the littleBits.
Station 2: The group played with the Robot (also known as Chad) and asked questions about the functions and potential of Chad.
Station 3:  The kids were given some code and had to discover the errors and 'debug' or fix it.
Station 4:  They were let loose with the littleBits kit and told to have as much fun as they could.
Station 5:  Here the Vex Team, challenged the kids to change the VEX Robotics design to allow the robot to expand and gain more points in the competition.  Clever little segue into VEX Robotics, I thought.
What was the outcome?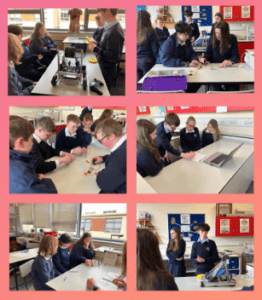 The Vex Team enjoyed the opportunity to learn, to show off their abilities and to share their passion in robotics and creativity.  They even did a PowerPoint presentation!
The younger kids enjoyed themselves and seem to be more open to STEM ideas.  One young girl said that might like to be an engineer, #BROD!
The teachers were very happy with the opportunity to attract younger kids into STEM and the Vex Team thought the littleBits kit was a perfect level for 1st years. 
The school recognised this as a really good development opportunity for the older and younger students.  They are even thinking of developing the idea for their open day!
Personally, I was totally taken aback by how the Vex Team took on the challenge and took it to a much higher level than I thought possible.  The Vex Team created an inclusive and socially safe place for the younger kids to learn without judgement. 
Go raibh míle maith agaibh to Sheelagh, the VEX team and Nenagh College and we wish Tadhg good luck in his Leaving Cert and with his future plans to light up Maynooth University with his enthusiasm, intelligence and real talent for STE(A)M advancement!
After the success of the littleBits project in Nenagh Collage and Gerard Hughes' words, Mint Tek are developing a programme aimed at having the students teach the younger students.  
Coming soon to a school near you!