Notes from a 3rd Year Startup; What We've Learned Along the Way
The startup that I am co-founder of, Mint Tek Circuits, has just emerged from the Valley of Death. We are not yet completely out of the danger zone, but we believe the worst is behind us. The valley of death refers to the period in the early stage of a startup before it is generating positive cash flows. It has been an exciting journey, though not one for the faint hearted. I am writing this blog to share our experiences, to outline the steps we took to survive and grow, and what we might have done differently.
In reality, the financing valley of death tests the commitment, determination, and problem solving ability of every entrepreneur. It's the time when you create tremendous value out of nothing. It's what separates the true entrepreneurs from the wannabes. Yet, in many ways, this starting period is the most satisfying time you will ever have as an entrepreneur. Are you ready to start?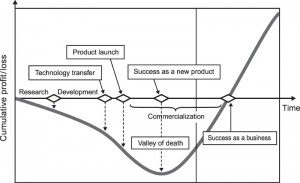 Source: Osawa and Miyazaki, 2006
Investment vs Bootstrapping
We spent a lot of time chasing investment up to mid-2016, and, in hindsight, this was always to the detriment of sales. In the beginning, we invested some of our own funds and some from friends and family. Thankfully, investment always seemed to come in the nick of time. In late 2015, we finally secured the Enterprise Ireland (EI) €50k investment and, as we went through the process a few times, we had to get very good at presenting our business.
Initially, we thought that the way forward for us was through the EI High Performance Startup (HPSU) program, which required us to raise at least €100k of external investment, to be matched by EI. We spent a lot of time working with WestBIC to build a very detailed business plan to support this application. This didn't work out for us as because, at that time, many of the VC early stage funds were empty and, as there is no great history of hardware companies in Ireland, it was difficult to find Angels and VCs who really got our business.
As we wanted to really focus on our sales and customers, we made a strategic decision to seek a smaller amount of investment from private investors and become clients of Údarás na Gaeltachta, who have matched the funds raised. Our goal is now to reach break-even by mid-2017, and then later in the year to seek further investment to finance specific projects to bring the company to the next level.
Accelerator Programs
We have been involved with some accelerator programs that we feel have really helped us along the way. These were all a positive contribution to our business, in terms of the contacts we made and the ideas we brought back into our business, helped by people like Niamh Collins in the DCU Ryan Academy, Tracy Keogh in the Bank of Ireland StartLab program and Siofra Flood of the EI Going for Growth program.
There is always an opportunity cost of attending programs and events, and taking part in these programs were tough decisions for us. The trick is to become discerning pretty quickly because it is time that can be used to focus on sales or develop your product.
Founder Relationships
You might be asking, "what has the founder relationship got to do with surviving the valley of death?", and it's a valid question. I think it's important because if you don't have strong founder relationships in place, the longevity of the business becomes threatened by co-founder splits. It's very easy to reach a place where you become fed up or you can't see eye to eye with your co-founder.
In our case, we were lucky enough to have a complementary skill set, in terms of Siobhán being sales focused and me being finance focused. Both skills were really necessary because, as much as we needed to grow the business, we needed to manage cash flow. But most of all, were able to have an argument, say what we thought and get over it. It is really important to be able to talk out your differences, and this is something we had to get good at to keep our business strong.
Use of External Contractors
We have had positive and negative experiences with external contractors. My advice is look for references and go with your gut feel on who you want to work with. I would avoid spending a huge amount of money (or equity) on iteration one of your web platform; there's a good chance you'll want to rip it up and start again for iteration two.
We've used marketing services, including Shane McCarthy in BlueChief Social Media, that have really helped us develop our in-house expertise in a few areas. We've also outsourced finance tasks, like payroll, that save us time and allow us to focus on growing the company. Our accountant, Niall Mooney, specialises in startup businesses and has given us advice that has saved us money, helping our cash flow.
Employees
In the beginning, we used some interns as our first employees. We didn't spend as much time thinking about their suitability of fit for our organisation or mentoring them as we could have. This was because they were a low-cost option and suited our budget at that time.
Last September, we were in a position to hire our first employee and we brought every mistake we felt we had made previously to the table to formulate our hiring process. We were very selective about who we hired, how that person would fit into our company, and how we mentored that person. And that has paid off, because it's not just about someone being able to do their job, it's how they contribute to the overall team spirit and creativity that is so important in a small startup team.
Conclusion
The startup journey can be a dark, treacherous place where you will face your worst fears, but it can also be triumphant and exciting. Knowledge is power, so the more you know about what lies along the way, the better you will be able to navigate your path. I hope this is helpful to you – if you want to get in touch you can get me at [email protected] or on Twitter at @GeorginaKearney